Museum at Tamada Project is making humanitarian assistance through art. This project, named 'Sunshine Art Project', aims to support victims of 3.11 earthquake, as well as artists and therapists working with children in earthquake afflicted areas.

First of all, we will introduce available art works contributed by both private and corporate collections on our website. A part of the sales will be donated under your name to following three organizations: 1) Japanese Red Cross Society; 2) The Nippon Foundation; 3) Save Iwate. At the same time Museum at Tamada Projects helps Art&Public (NPO art think tank) founding committee to establish "Art Foundation for Children" which supports art activities of children in particular. ( The web-site of Art & Public and the public information on the Foundation are in preparation.) However, there will be more information about the art works for charity on our website. Our future projects will also be announced and can be found through our site.

In addition to the art works introduced on our website, we are looking for collectors who would like contribute art works: 19 & 20 Century Modern Masters and Contemporary Art. Artists who are willing to be involved with our project are very welcome. Please feel free to contact us.

If you have any questions, please do not hesitate to contact us.
Thank you very much for your support.
Museum at Tamada Projects
Sunshine Art Charity Exhibition
2011. 7. 14 – 9. 16
Open:
Monday - Friday
12:00 - 19:00
(closed on weekends & holidays)


Go to works for charity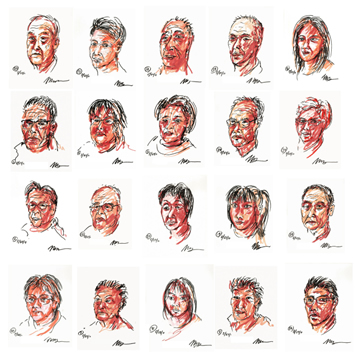 2011. 7. 14 – 8. 5
NAOTO NAKAGAWA

「1,000 PORTRAITS OF HOPE」
THE GREAT NORTH EAST EARTHQUAKE,
JAPAN 3/11/11
When the earthquake, tsunami and nuclear meltdown struck northern Japan on March 11, 2011, resulting in 15,000 deaths and 8,200 people still missing, I felt powerless to do something to help my homeland. Sending money was the only thing I could think of, through a relief fund set up by the Japan Society in New York.

I was already planning to visit my family in Japan this spring, to attend the 7th anniversary memorial of my father's death, which is customary in the Buddhist tradition.

I decided to use part of this trip to take my son, Taro (14), to visit the devastated area to see it with our own eyes. When we got there Taro told me that it was far worse than he had imagined. I decided to draw portraits of people who are living in shelters, to give them some token that people far away in America care about their plight.

I remembered that after the 9/11 terrorist attacks on New York City, school children in Japan sent 1,000 paper cranes, a symbol of healing and good fortune, to Taro's school. I thought, why not make 1,000 portraits of people in northern Japan! This would be a symbolic way to let them know that others care for them, and that we support each other in a crisis.

So, together with Taro, we went to Iwate prefecture where we were assisted by a humanitarian aid group who arranged for us to visit schools and shelters. I began to draw portraits, and the response was overwhelming. When I focused on my subjects, they started to talk, or sometimes to cry. One woman told me that she had lost all her family photos in the tsunami, and she was so grateful her family could have a portrait of her now.

Unexpectedly, the Japanese media took an interest in my 1,000 portrait project, and it was covered in two of the major newspapers, Asahi and Yomiuri Shimbun, and on NHK-TV – the major television network which broadcast the story on the morning and evening national news.

By the end of our visit, I realized that what the displaced people really need is money, to rebuild their homes, their businesses, and their lives. In order to raise funds, I'd like to add value to my project by drawing some famous people as well, such as President Obama, Mayor Bloomberg, and Naoto Kan, the Japanese Prime Minister. My portraits take only 5 minutes to complete – quick and beautiful likenesses which I would co-sign with the subject and then exhibit in a museum for the public to see, followed by a sale via auction or other means, to raise funds for Japan Relief aid.
June, 2011
Naoto Nakagawa

artist web-site:
http://www.naotonakagawa.com/

THE GREAT NORTH EAST EARTHQUAKE, JAPAN 3/11/11
「1,000 PORTRAITS OF HOPE」
2011. 7. 14 – 8. 5
Open: 12:00 – 19:00 / Monday – Friday
(closed on weekends & holidays)